There's nothing like adding an outdoor water fountain to bring tranquility and elegance to your home landscaping. Choosing just one can be an overwhelming task, which is why we've made the job easier for you and narrowed down the list.
Here is our list of the best water fountains. 
This 40-inch-tall outdoor water fountain is reminiscent of a mountain waterfall, bringing a touch of nature to your home. It combines the look of carefully carved stone with the durability of stone powder, fiberglass and resin. It also has four tiers that are illuminated by the LED lights that come along with it. 
Made from a combination of polyresin, metal and fiberglass, the Peaktop Outdoor Glazed Pot Floor Fountain is ideal if you're looking for something a bit more budget-friendly. It has a colored glaze finish, making for a visually pleasing outdoor fixture. At 15.5 inches round and 17 inches high, this water fountain is designed for outdoor use and is resistant to harsh weather conditions. 
3. Gracie Oaks Imen Water Fountain
The Gracie Oaks Imen Water Fountain is a small tabletop water fountain that can add a touch of personality to your home. It's made of polyresin that's lightweight yet durable. The fountain's deep grayish-black stonelike finish also adds to its visual appeal. Not to mention, this water fountain also comes with a crystal ball and a built-in LED light that makes for a satisfying sensory experience. 
If you're looking to add a touch of modernism to your outdoor area, then the Luxen Home Patio Fountain is the perfect fit for you. It's made of sturdy and durable polyresin that allows it to withstand harsh weather conditions throughout the year. It has a rectangular design with a cutout in the middle, featuring a modish silhouette, clean lines and a commanding aesthetic that makes contemporary architecture appealing. 
Bamboo has an inherent tranquil appeal to it that makes it a great addition to any home. The Bamboo Accents Water Fountain comes with sturdy tubing, a submersible pump and a strong bamboo spout. Although it doesn't come with its own basin, you can use any container measuring 15 to 30 inches in diameter. 
6. Wrought Studio Marta Ceramic Fountain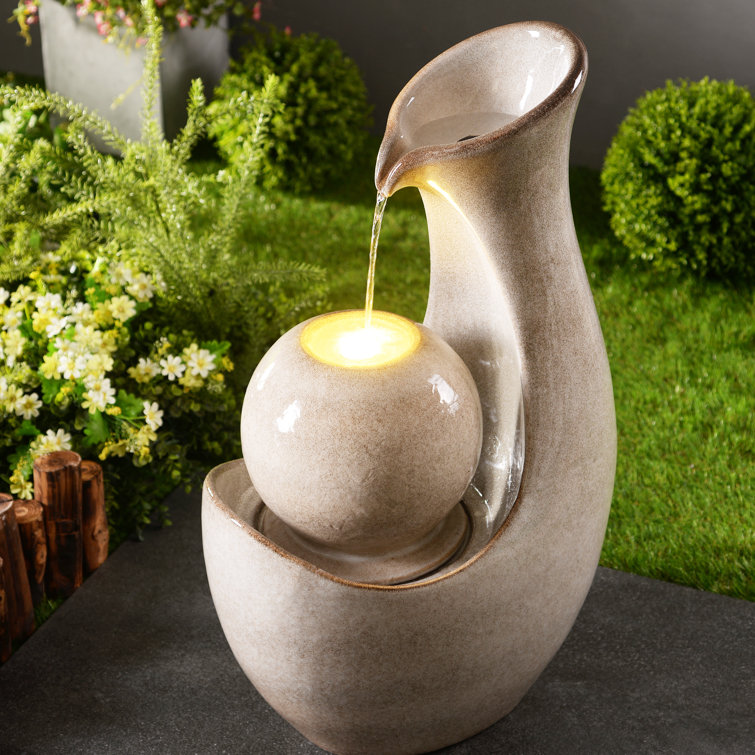 This ceramic fountain is perfect for those looking for something unique and lighted. With fluid features, a curved silhouette and an illuminated sphere found in the middle, the Wrought Studio Marta Ceramic Fountain is stylishly modern.